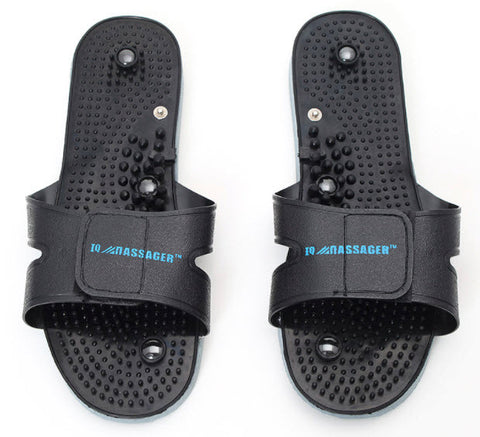 IQ Massage Slippers
Massage Slippers: Healthy feet are very important for your body. Connect Massage Slippers to ALL our massage products.
Maintenance and Care:
* Always remember to apply a few drops of water on the sticky surface of both pads before and after use.
* To maintain the cleanliness of the massage pads, always apply a few drops of water and cover them with protective films after use.
* Turn off the instrument when not in use.
* Depending on usage, each pair of massage pads usually last for more than 2 months.
* When the massage pads completely lose their adhesiveness, extra massage pads can be ordered.
Precaution:
* Avoid applying the massage pads near the heart, above the neck, on the head, in the mouth or pubic region, or over scars.
* Avoid touching the massage pads directly with fingers when power is on.
* Pregnant women should avoid using this massager.
* Patients who use a pacemaker or life support equipment, such as an artificial heart-lung devices and respirators should avoid using this massager.
* Keep out of reach of children.
* Do not open the chassis of the control unit.

* Consult with your doctor before using iSmart Massager if you have:
Skin problems
Acute disease
Malignant tumor
Infectious disease
Cardiac dysfunction
High blood pressure
High fever

* iSmart Massager is not intended for:
Nerve therapy
Treatment of muscle spasm
Muscle growth
Pain management
Weight reduction
Prevention of muscle atrophy
---
We Also Recommend
---